Leura srl creates oases of well-being filled with color, lights, sounds, perfumes. They lead to a deep regeneration, total physical and mental relaxation, improvement of mood, concentration, behavior and self esteem. Those multisensory rooms are suitable for children, adults and aged people. They can be placed at home, schools, SPA, hotels, hospitals, delivery rooms, residential and assistance facilities…
People suffering from Alzheimer's, Autism or cognitive and communication difficulties, often experience a condition of isolation and detachment from reality. Thanks to the Snoezelen Method, through that multi-sensorial activation, the operator can easily activate his therapy. Leura s.r.l. offers all the necessary products to create customized rooms on customer requests.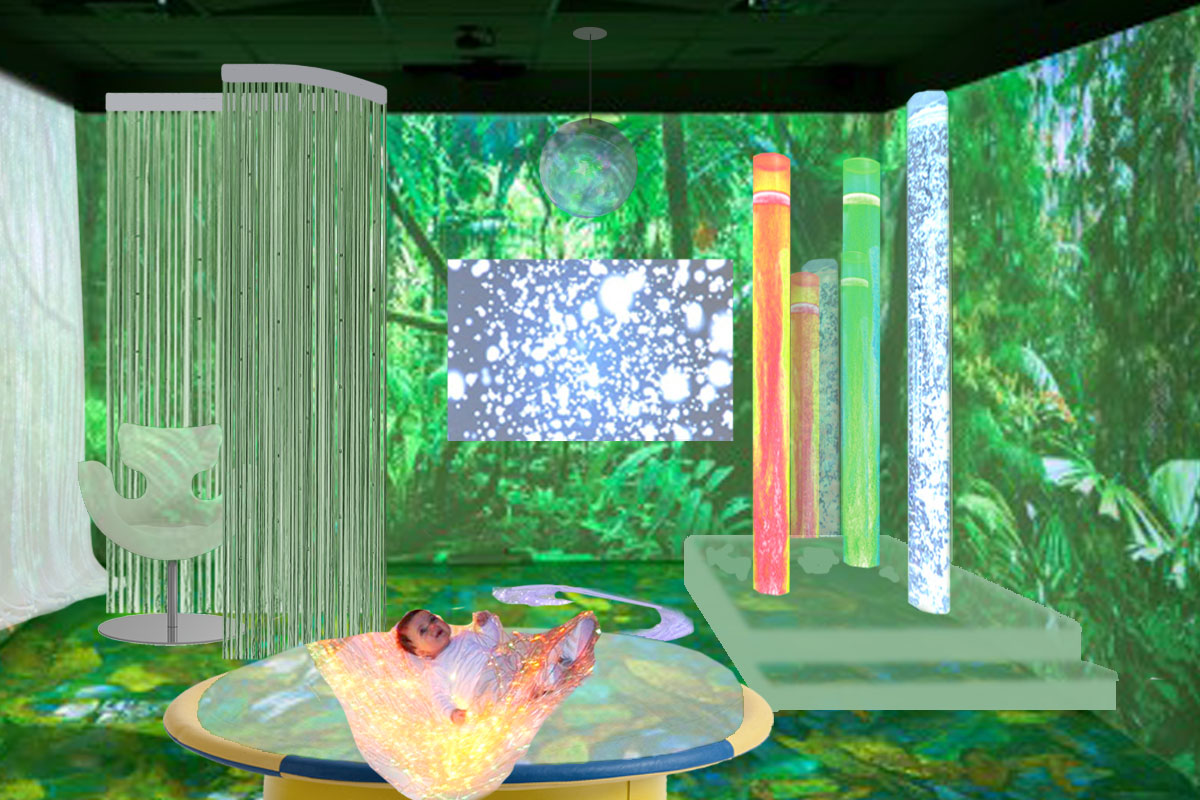 Water beds
The gentle movements and the pleasant warmth of the water beds provide a general feeling of well-being, safety and relaxation. PACS beds are equipped with rigid edges of cm. 25 to facilitate the operators approach to patients. RELS beds have edges of only cm. 10. Both models have the heating system. The models have different width from cm. 140 to cm. 230. Their length is always cm. 250 and their thickness cm. 25. The beds bases are made of MDF, white colour , available with different heights from 25/42 cm. The base is excluded from the supply of the waterbed and it can be purchased separately.
We recommend adding the Music Vibration Lock with the Music Box amplifiercan be purchased separately.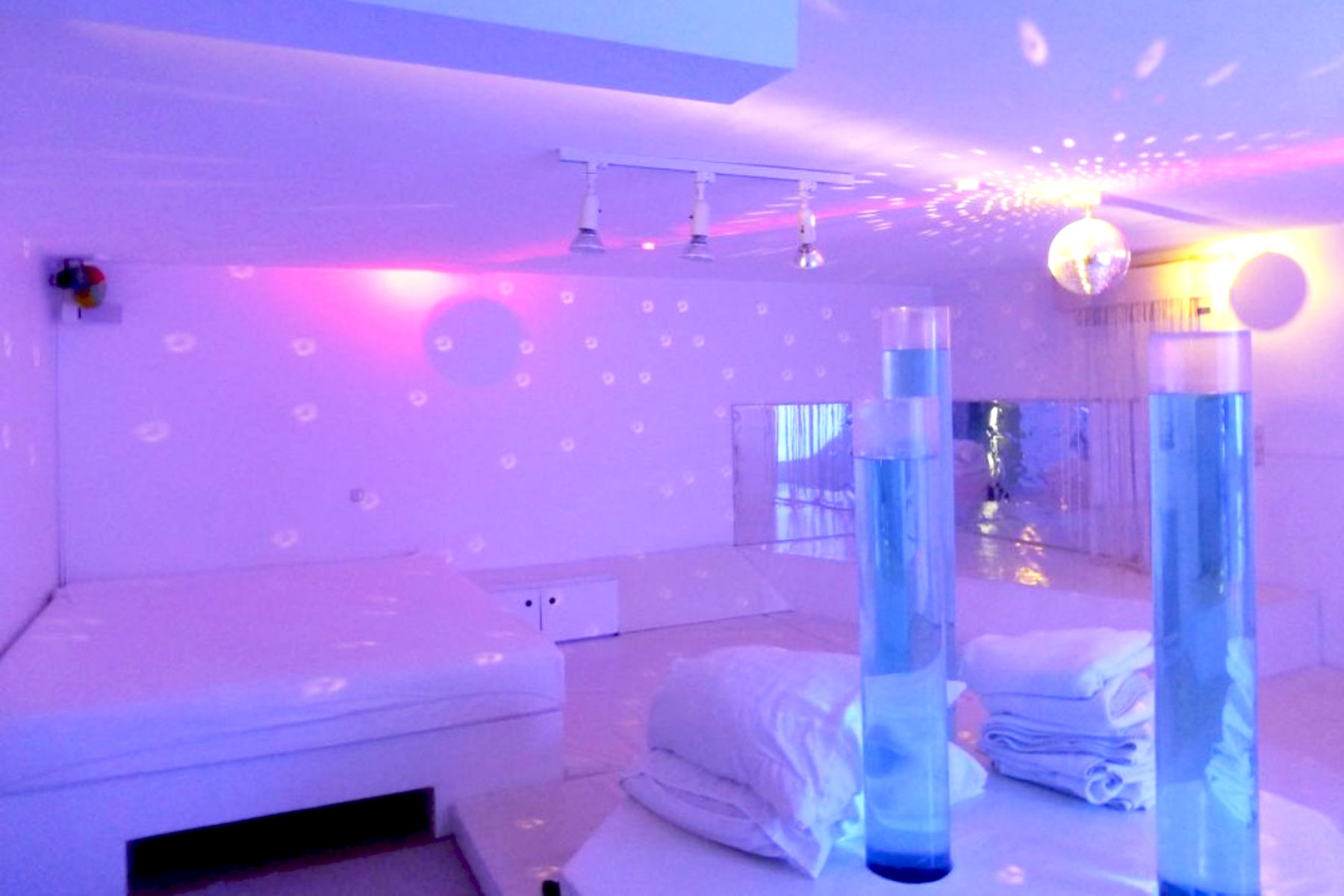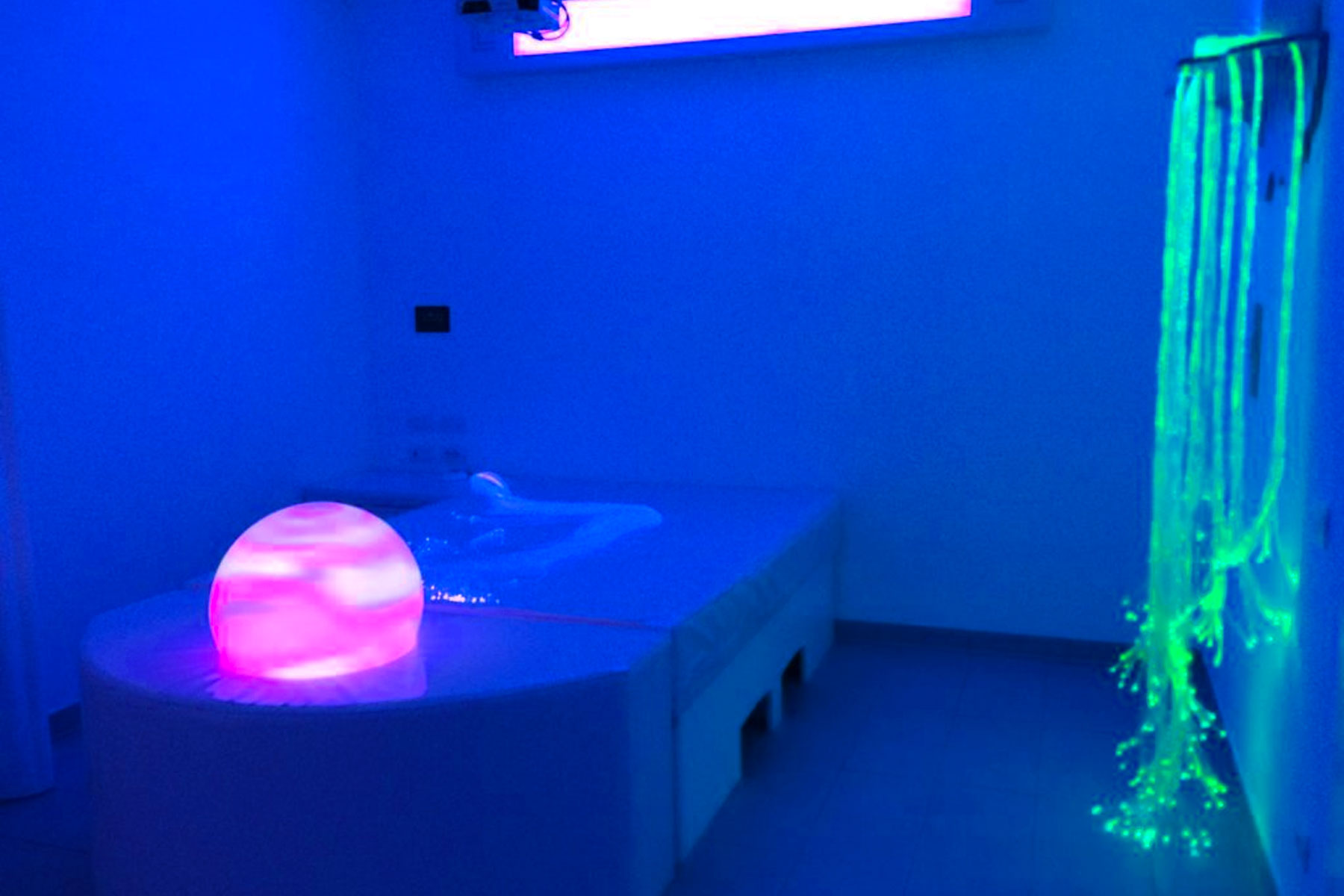 Bubble Tube
The Bubble Tube is an object of strong attraction and it cannot be missing in a multisensory room. The continuous movement of the bubbles and the continuous change of colors, provide visual and acoustic sensations. The column invites the user to embrace it.
Bubble Tubes have low consumption led lighting. The column is made of acrylic material with a thickness of 5 mm. Power supply 12V, diameter 12-20 cm, height cm. 145-200. The Black Magic version has a lamp inserted inside to create magical lighting effects thanks to the fluorescent cables and the constant flow of air bubbles. Magic has small colored spheres that move with the flow of bubbles creating an additional visual stimulus. The Interactive Bubble Tube is controlled by a push-button panel that manages the flow of bubbles and the four main colors.
 Optical Fibers
The Optical Fibers are safe sensory lights entirely made of non-toxic plastic materials. They do not cause any injury in the event of a tear or bite. There is no electricity or heat, only light, In their beams therefore they can be handled without any danger. The bundles of optical fibers stimulate the sight and the touch of users of all ages and allow different patient approaches to that product, respecting the sensitivity of each of them.
Waterfalls and Fiber Optic Sensory Walls
Optical fibers can be mounted on shelves to facilitate their arrangement in a room and to create dividing walls completely made of light. The following models vary in length and number of threads. The power supply must be purchased separately.
Projectors
Images always have a strong impact on people's minds and feelings. The projection of images or videos within a Snoezelen multi-sensorial environment is used in a profitable way to stimulate memories of personal autobiography
Sensory Tables
Sensory tables, or tactile panels, are simple structures which people can interact with by activating their senses. These panels are made up of a wooden board and a series of objects to touch, see, turn, feel and move fixed to them for working on sensory development.
Aromatherapy
The sense of smell, more than others, allows all living beings to move and relate to their environment. Already from birth, the sense of smell is the only fully mature sense and allows the infant to recognize his mother and to look for her breast to feed. The sense of smell, like sight, is one of the senses of memory and evokes the past. For that reason, the aromatherapy in Snoezelen multi-sensorial spaces is an essential element.
Sounds
Leura s.r.l. it also proposes solutions to promote auditory experiences that are based on the rhythm, sound and vibrations they produce. Listening to sounds in a conscious way means listening with your whole body and becoming aware of yourself. The ability to feel vibrations is one of the earliest forms of communication that the human being is able to activate.
Furnishings
The furnishings proposed by Leura s.r.l. for multisensory environments Snoezelen are ergonomic, comfortable, easy to clean and guarantee maximum comfort for every user. They are white, or transparent, to encourage the use of color through the projection of colored lights also on these elements.
Pillows and Supports
Leura srl offers various seating, support and body mobilization systems for disabled people. Thanks to their versatility, the positioning aids can offer various posture possibilities. Soft furnishings are indicated in centers for disabled people, homes for the elderly, nursery schools, used as play tools, therapeutic aids or protective elements. For durability, strength and colorful appearance, soft furnishings are indicated as a basic element for a safe environment that allows multiple activities.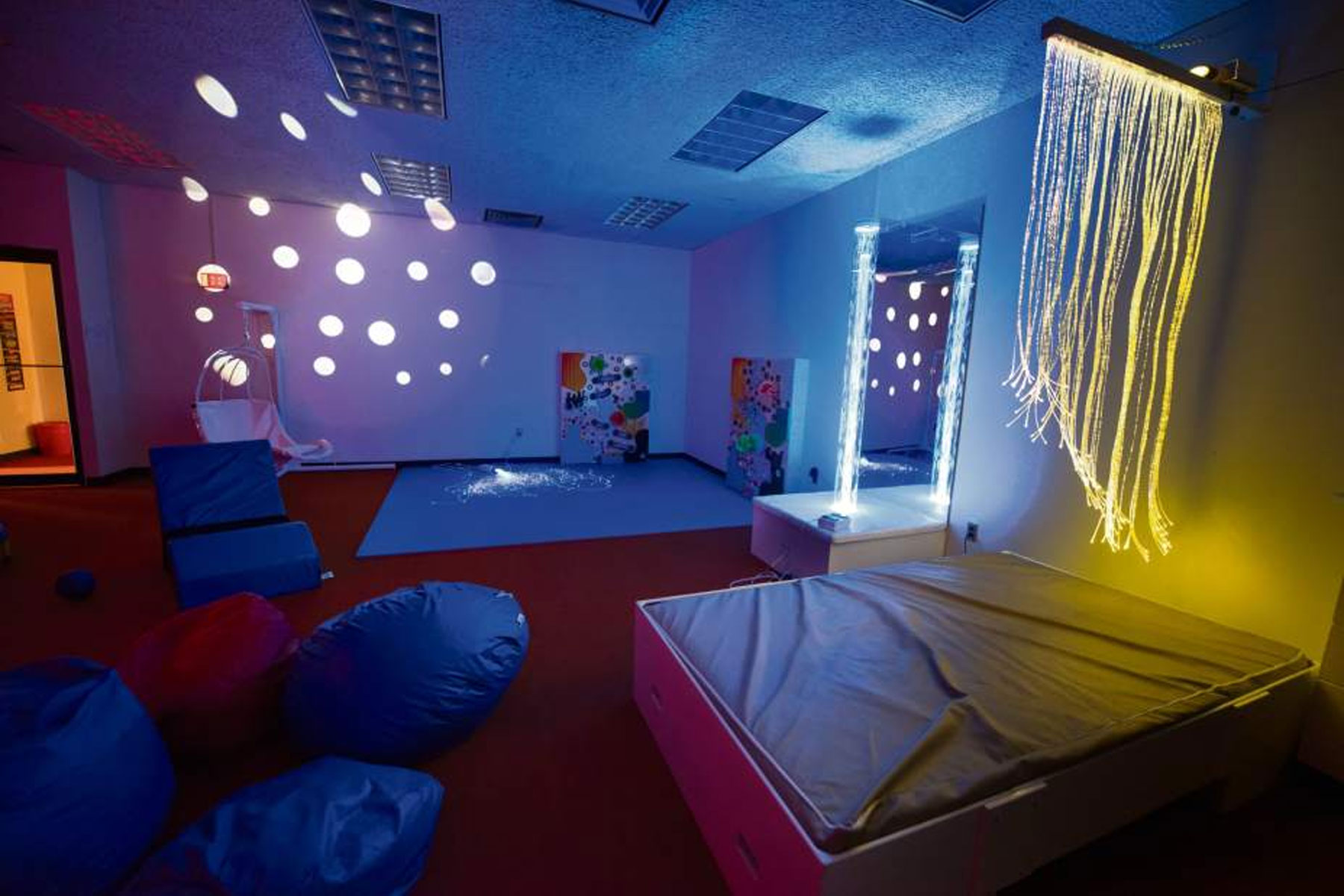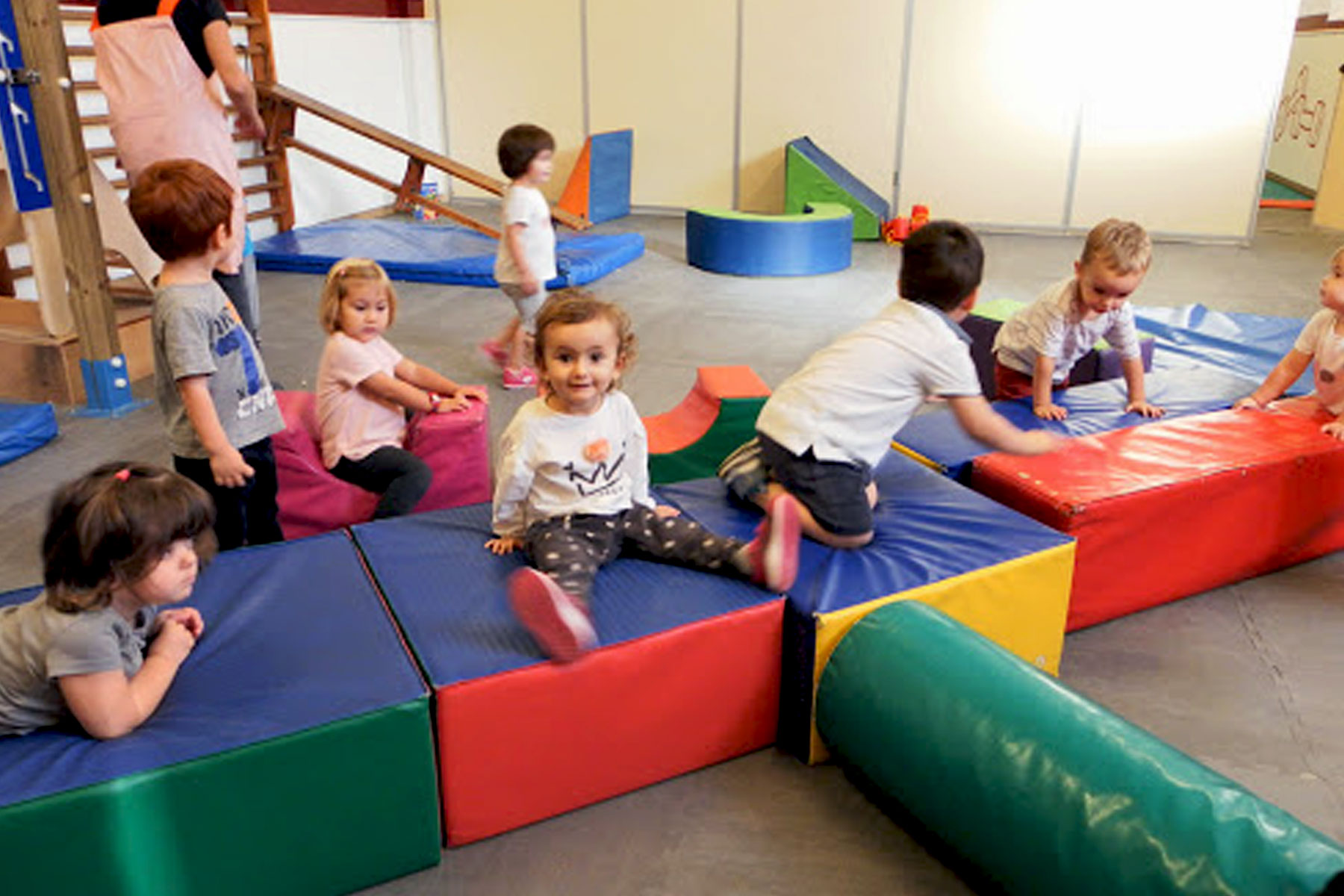 Balance, Swinging, Playing
The rustle of the carousel moving on its spheres, the soft upholstery with bright colors and the world moving around stimulate all the senses together. The NiDondolo inclusive movement game is suitable for children, teens and adults of all ages who can stand, lie down, stay on all fours or sit on it according to their abilities.
NiDondolo activates an oscillating, tilting and rotating movement at the slightest touch that allows each user to experience sensations of balance, imbalance and speed. NiDondolo is an excellent tool for working with disabled people and for making neuro-motor therapies playful too.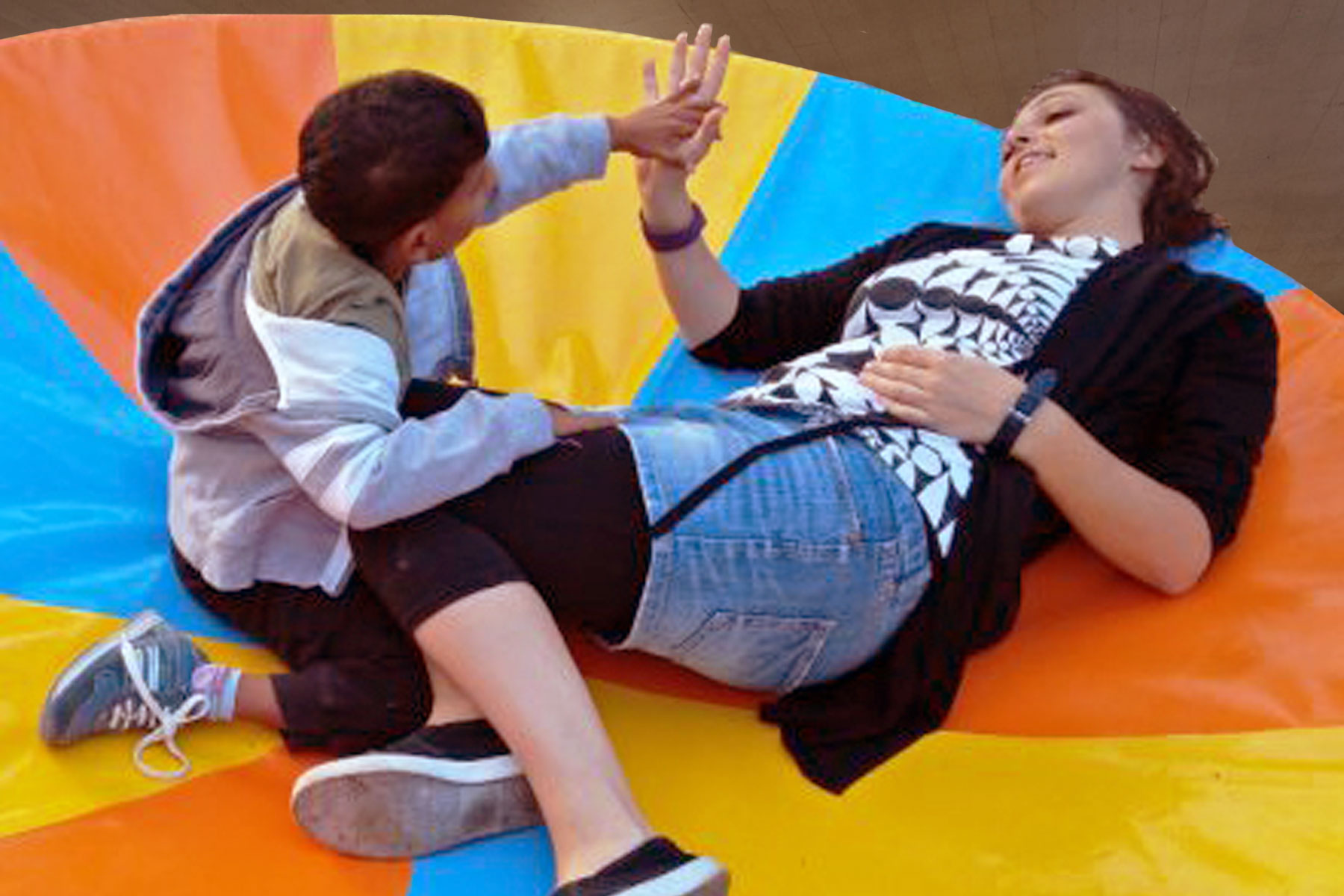 Carpets
The rugs are made by inserting optical fibers in various formats and with different effects into the weaving. Safe for children and adults, the carpets are not transited by electricity and can be used safely. They are normally used on the floor but can be hung on the wall creating a sparkling background.
Ceiling
Three hundred small lights chase each other, alternate, change intensity to create a pleasant atmosphere in a relaxing space. The material of the cloud is a special translucent, fire retardant and washable at 30 degrees fabric that is draped over a plywood panel. Ideal as a visual stimulus or decoration in a multisensory room.
Interactive Elements
Interactive projections can be created, displayed on any desired flat surface, which immediately react to movement: when you move a part of the body in the projection, the projected elements will react to encourage users to continue the activity. These are joined by other elements of visual stimulation such as the spheres.
The People in the Center
Leura srl staff is always available to collaborate with professionals, companies, public and private bodies and therapists to study multi-sensory spaces that meet the specific needs of each user. For more information CONTACT US.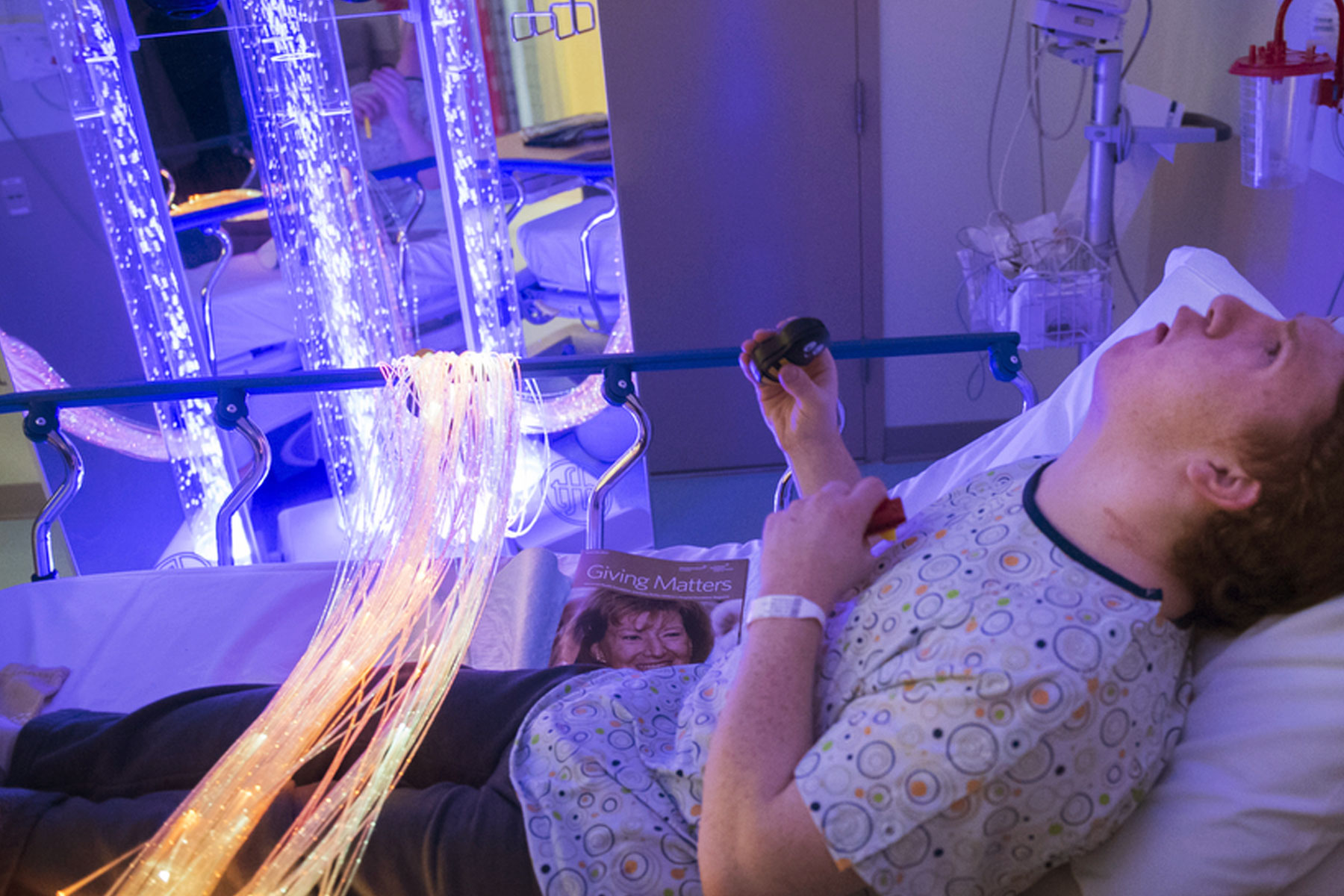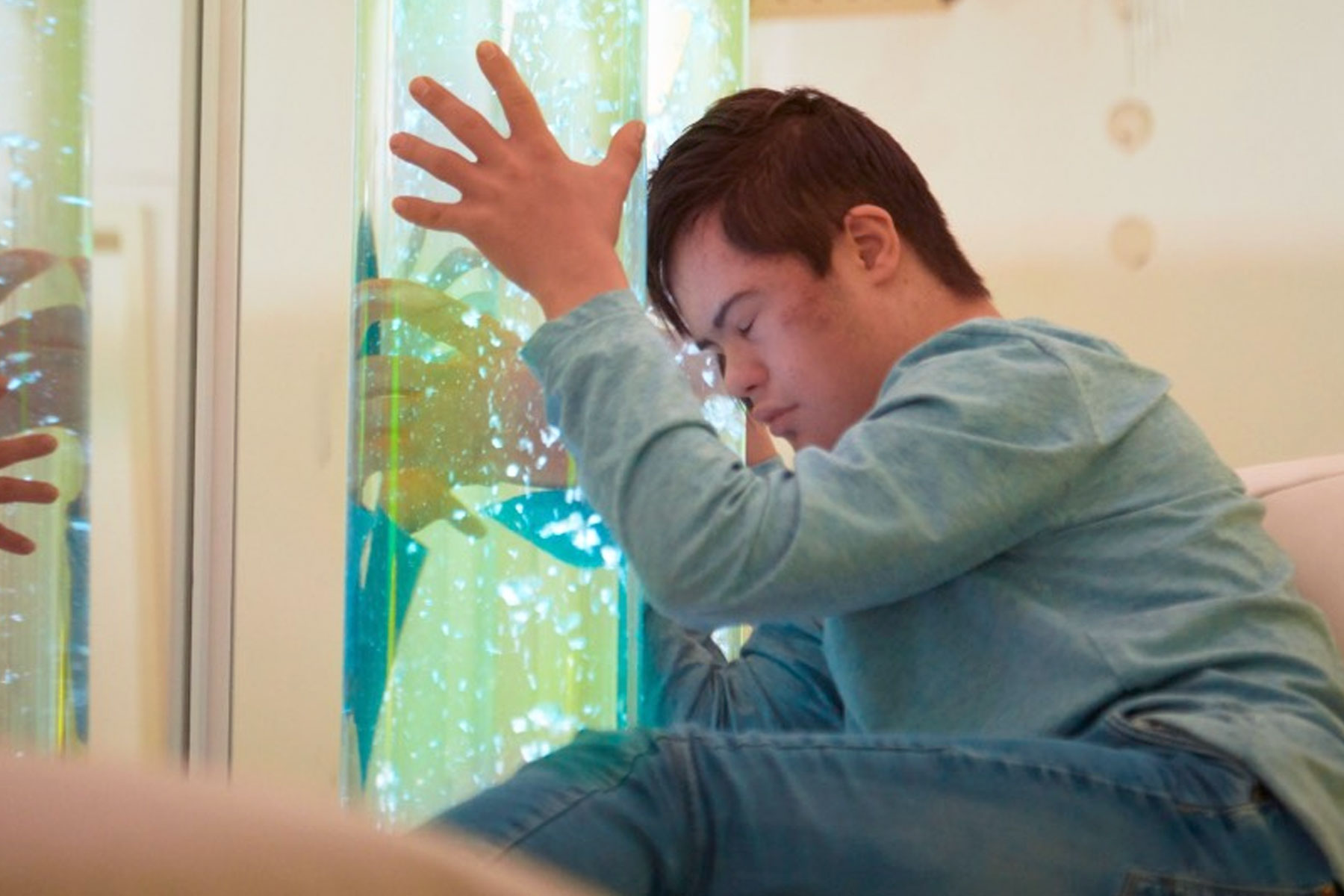 Disabled People
Multisensory stimulation is one of the most rewarding strategies in the field of cognitive disabilities: advantages have been found both on an educational and a therapeutic level. Through the stimulation of the senses in a controlled environment it is possible to limit pain, relieve emotional and aggressive tensions, allow relaxation and make the person participate in the discovery of a world made of lights, sounds, scents, sensations, emotions…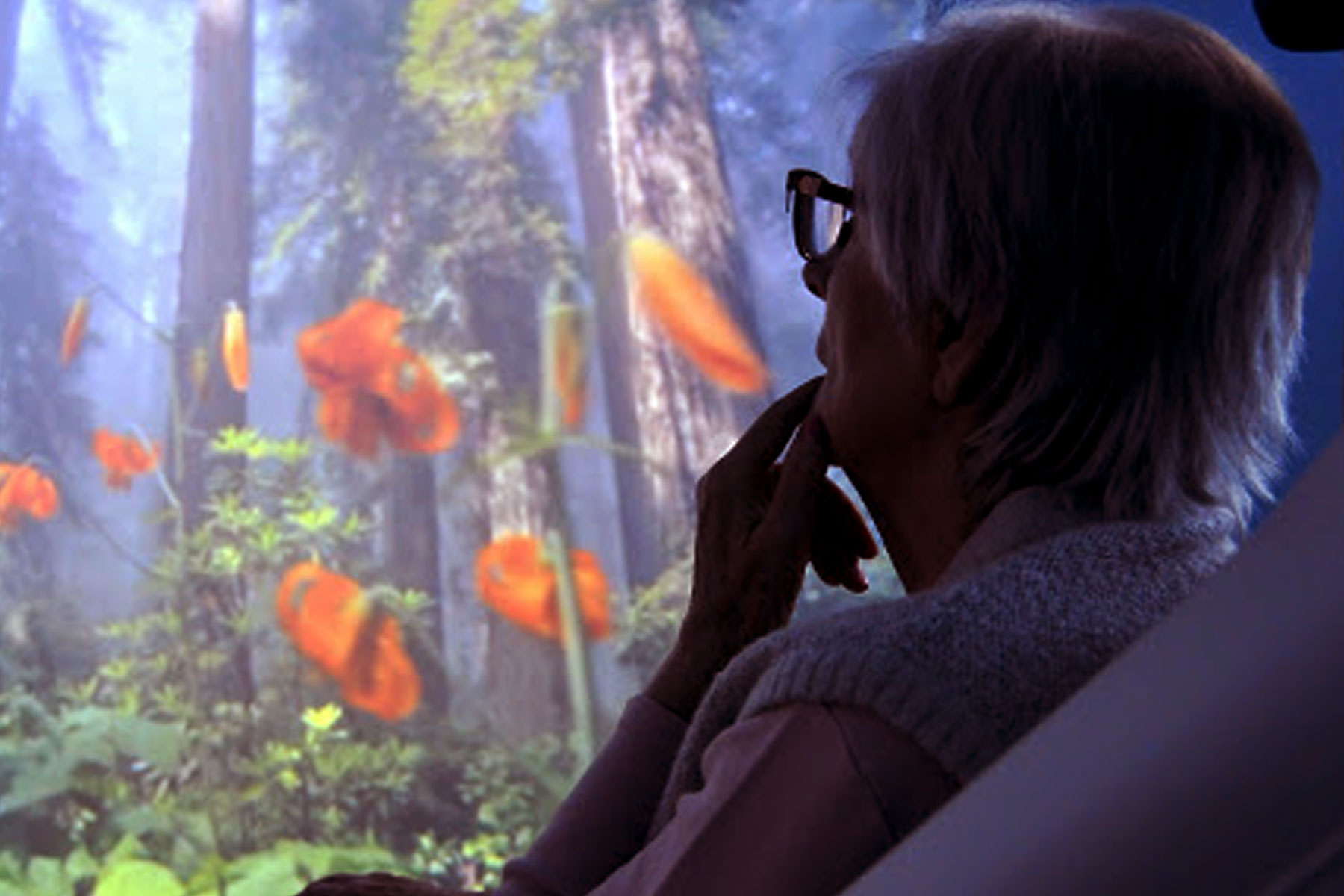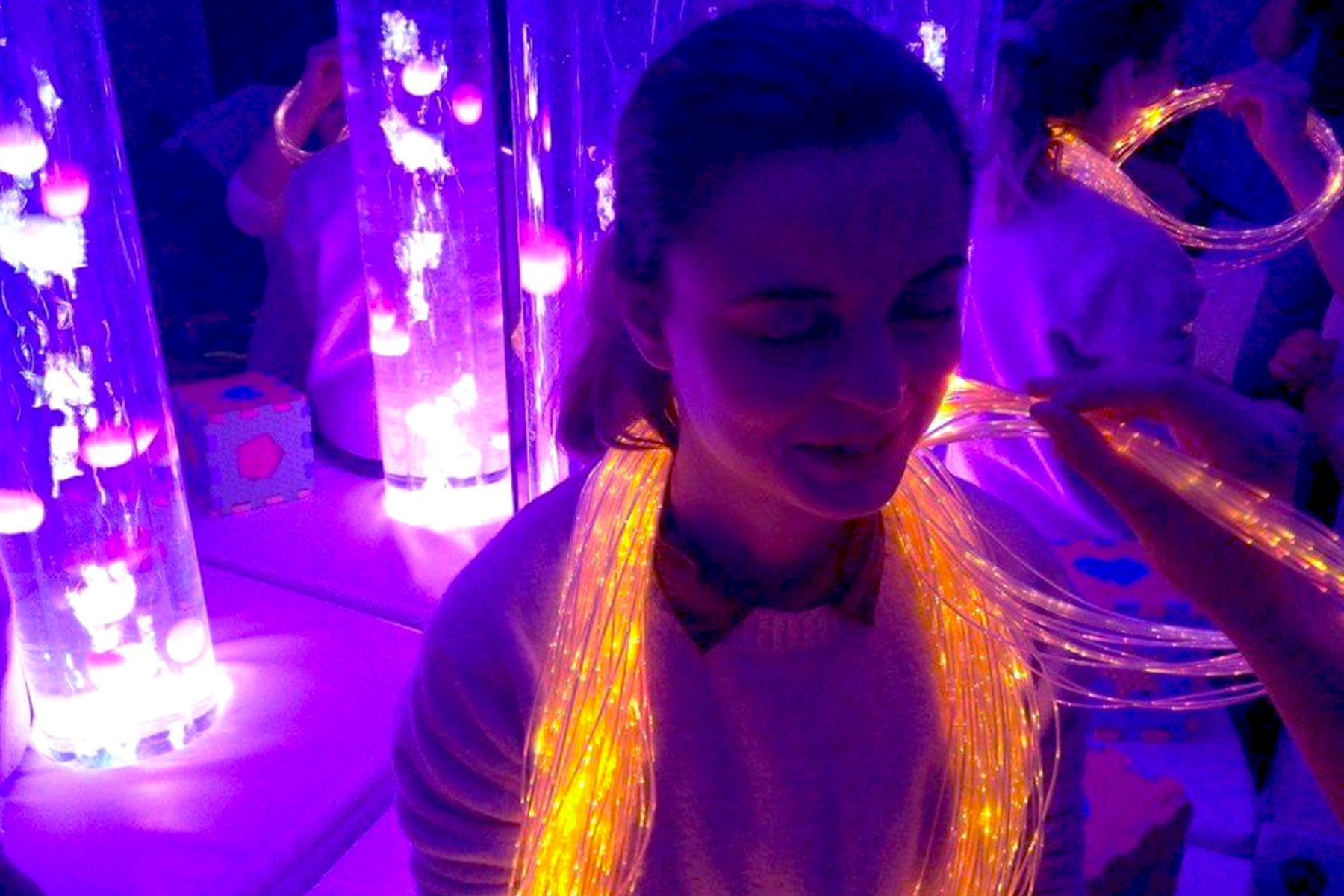 Elderly People
People suffering from dementia have limited ability to cope with stressful stimuli (sudden noises, too bright lights…) that can cause negative behavior. Sensory stimulation promotes relaxation and adaptive behaviors, improves mood, facilitates interaction and communication with the caregiver, produces a decrease in apathy, restlessness, confusion and compulsive behaviors.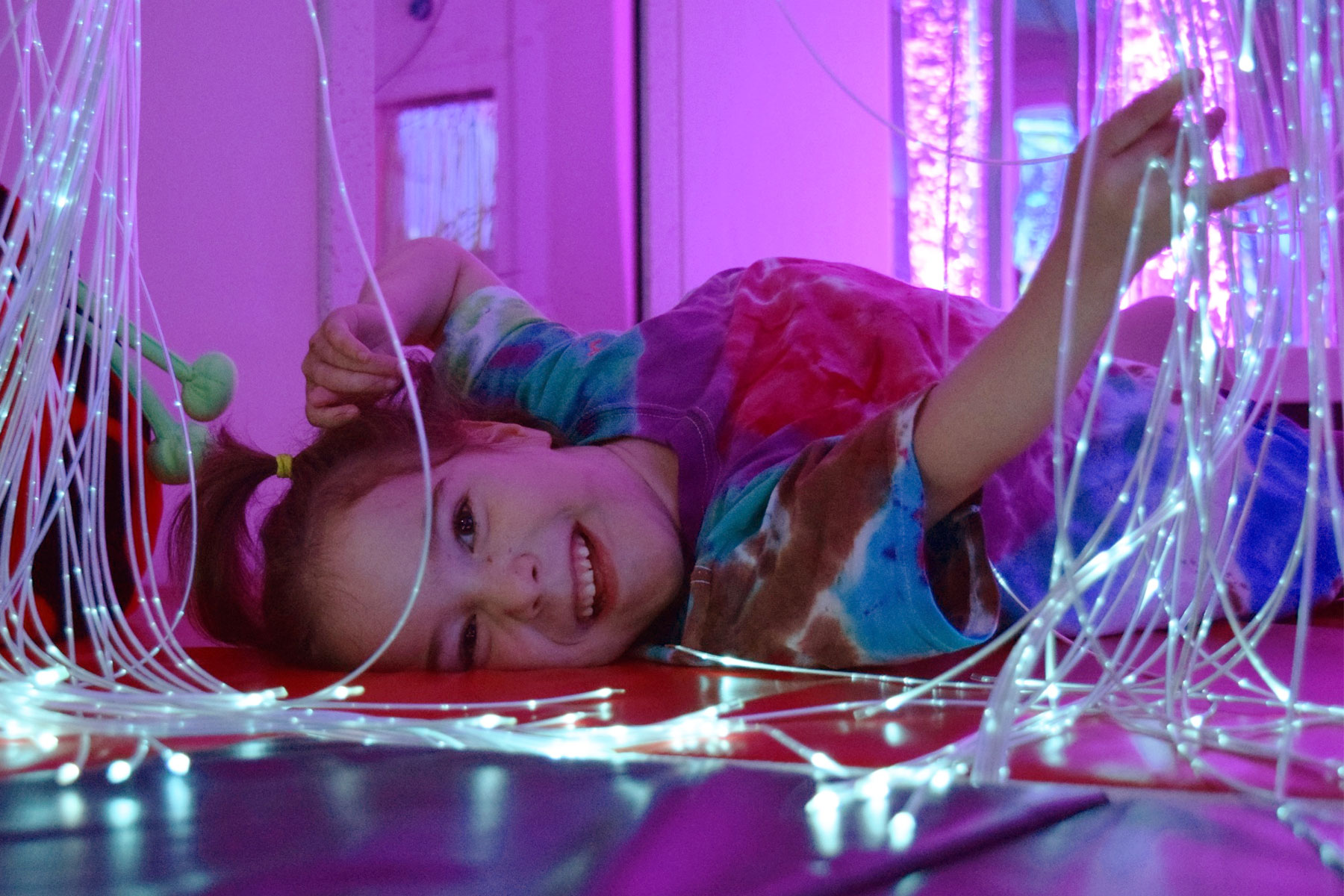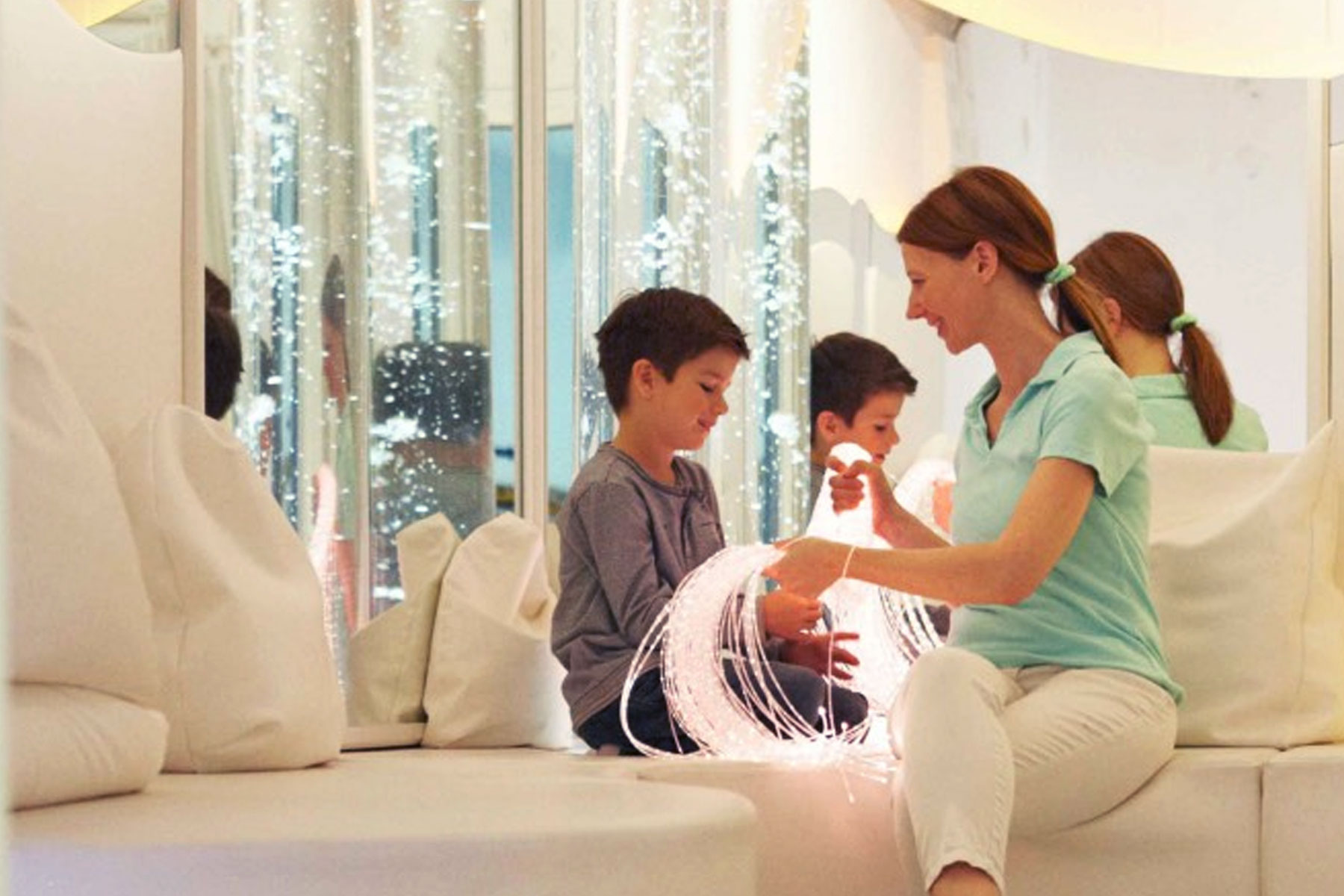 Children
The Snoezelen room for children has the aim of instilling well-being and tranquility, as well as promoting the harmonious development of perception and stimulation of the senses. The multisensory approach can represent a response to the need of children to have, while growing up, outside the family environment, feelings of safety in a welcoming environment, a source of profound reassurance.