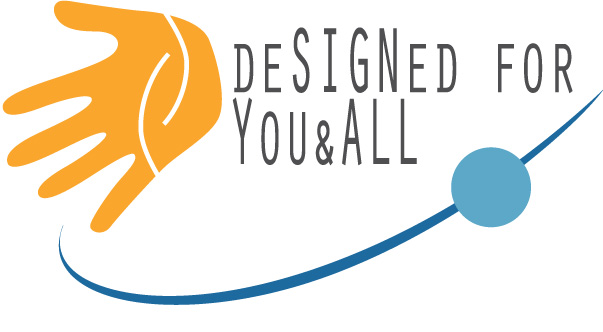 Leura's products are designed to answer in advance to the needs of all the different stakeholders who could use them. For that reason they have the "Designed for You & All" label. The MimmaMà chair has the added value of CE declaration.
Leura offers its customers a complete service: planning, designing, manifacturing and testing, thanks to its closed collaboration with architects, involved in accessibility for all, feng shui and wellness. We can offer you a selection of the most suitable products, the creation of exclusive and new products, a consultancy for services and organizing equipped spaces for a very demanding customers. A satisfied customer is a loyal customer.
What is the "Designed for You & All" label?
The "Designed for YOU & ALL" label distinguishes products, services and activities with a high-performance value, human scaled, for a friendly environment which respects civil and social rights, assures people's autonomy facilitating their participation to public and private activities, minimizing instances of discrimination.
What are the objectives of the "Designed for You & All" label?
The "Designed for YOU & ALL" label highlights the accessibility, health and safety requirements, that products, structures, infrastructures or services complied. Aims are customer satisfation, increasing of better quality of life, saving private and public cost, flexibility and answer to future needs.
Who issues the "Designed for You & All" label?
The "Designed for YOU & ALL" label, is released by the architect. Mitzi Bollani, after a careful and thorough investigation. The arch. Bollani has a long experience in the field of architecture and social sustainability, as well as in Accessibility for all. She took part to many European projects. She used to combine functional and ergonomic aspects to aesthetic and artistic ones in order to let people reach their psycho&physical wellbeing. She is consultant for the European Commission, the EESC (European Economic and Social Committee), representative of EDF (European Disability Forum). She is at CEN / CENELEC table – for the study of the European Standards for the an Accessible Built Environment, Consultant for EBU (European Blind Union) and for several associations of disabled people in Italy, Jury member at European level in the Access City Award, lecturer in various Italian and European Universities.
Her philosophy and professional activities are focused on the design methodology called "Design for All": by starting from the needs of persons with physical, sensory or mental activity limitation, she plans and designes structures and objects easy usable by all people, with high aesthetic value and saving cost for future adaptation or specialistic design.
WOULD YOU LIKE TO GET THE "Designed for You & All" LABEL?
Write at leura@leura.it